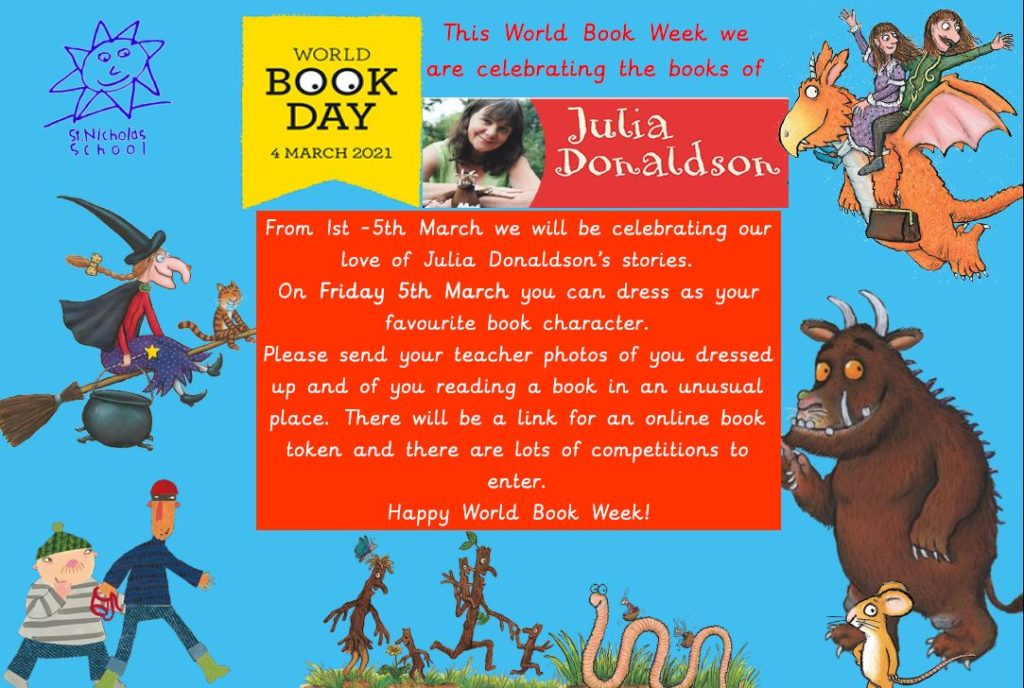 From 1st-5th March we are celebrating World Book Week and this year we are focussing our celebrations around the stories and poems of Julia Donaldson! She wrote some of our favourite stories including The Gruffalo, What the Ladybird Heard, Superworm, The Snail and the Whale, Room on the Broom and so many more!
During the week, in your online lessons or at school, your teachers will be sharing Julia Donaldson stories and activities.
On Friday 5th March we would love it if you could dress up as your favourite book character (it doesn't have to be a Julia Donaldson character) and send your teacher some photos for our school display. We would also love some photos of you reading at home or somewhere more unusual!
The World Book Day website (www.worldbookday.com) is running weekly competitions – this week they are asking you to send in photos of Books That Make You LOL – to kick off Show Your Shares, this week's competition is all about what makes you chuckle! Your favourite funny reads, or you sharing stories in a silly way. Are you reading dressed as your favourite funny book character or giggling over your favourite comic? Please send in photos directly to the World Book Day website and to your class teacher so that we can display them in school too!
Below is the link to print your own £1 book token – it can be printed and used in shops like Sainsbury's or Asda or shown on a phone screen in some participating shops. Please see the Ts&Cs at the bottom of the voucher to see where it can be used.