Here you will find things we have put in place for children who are learning from home or self-isolating due to Coronavirus. Your child's teacher will be able to provide login information for Busy Things, Purple Mash, Education City and Mathletics (if they are Year 1 or above). Please scroll down for printable worksheet activities you could use with your child. Click the link above to see our Remote Learning Policy.
Here are some useful website links to try out
(Please bear in mind you may need to look for activities for younger children to suit your child's needs)
Here are some videos that the staff have made!
Printable Worksheets for Home Learning
Here are some worksheets and activities teachers have provided for you to download and print at home. They have been separated by ability and topic, and more will be added soon. Please speak to your child's teacher if you are unsure of their ability.
Speech and Language Activities
Below are some excellent activity suggestions from thespeechbubble.co.uk's Facebook Page
They are activities to support communication and learning through play. They have been separated into Early Years, KS1 and KS2, but you may find activities from various age groups can be adapted for your child.
Click each image to make it larger.
World Book Day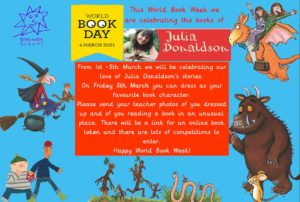 Please visit the World Book Day website (www.worldbookday.com) to find out more about their weekly competitions!
International Cook Off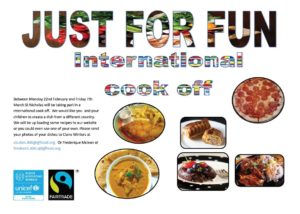 We are having an international cook off! Send photos of any dishes you have cooked with your family to Frederique or Claire Winters by email or Weduc!